One-Bottle Natural Wine Bag

More
Sienna2 Marble Box

More
Standard Pyramid Ashtray Tal473S

More
One-Bottle WireNet Wine Tote

More
test00test

More
Filter for Cleo Mood Swing Smokeless Ashtray

More
| | | |
| --- | --- | --- |
| | Holmes Smoke Grabber Smokeless Ashtray removes smoke from cigarettes and cigars up to size 32. | |
---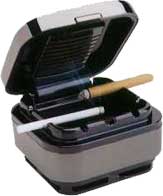 Holmes / Pollenex Smokeless Ashtray HAP75
SKU: HAP75

Attractive, practical design is perfect for office, home and countertop. Powerful fan captures cigarette smoke allowing the activated carbon filter to absorb heavy cigarette odors near the source before they spread out in your room. Simply raise the lid to turn it on. Close lid when not in use to trap smoke and odors and hide unsightly ashes. Tray is removable, dishwasher safe. Comes in white and uses two "D" batteries (not included). Reduce the harmful effects of second hand smoke! For cigarettes and small cigars. These units are new and no...


Smoke Grabber Smokeless Ashtray

$23.95

Filter for Smoke Grabber Smokeless Ashtray
SKU: HAPF7

Original Smoke Grabber filters for Holmes HAP70, HAP75, & HAP76 Smoke Grabber smokeless ashtrays and Pollenex AT100 & AT101 ahtrays. Comes in a box with 2 filters.



Smoke Grabber filter pack (contains 2 filters)

$8.95