Ceramic Ashtray

More
One-Bottle 1/2 Window Burgundy-Natural Wine Bag

More
Navaho05 Marble Ashtray

More
Standard Pyramid Ashtray with Bas-Reliefs Tal486

More
Filter for Oscar Smokeless Ashtray

More
Honey Onyx2 Marble Box

More
Secure your possessions with a Card Lock

Card Lock, security lock available in two cable lengths and 5 colors.



---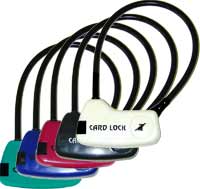 Card Lock Security Lock
SKU: SKU162141

Tough spring steel cable lock with individually coded card key release mechanism is easy to use. Secure gym lockers, gates, luggage at airports. With vandalism on the rise even in the suburbs, it now makes sense to secure your possessions with a minimal cost. Secure fishing, golf, ski, boat, bike, gun and other sports equipment.

Available cable lengths are 12" & 23". Available colors are black, white, blue, green and red. Select cable length and color by editing "Edit Option" at checkout.


Card Lock

$7.95
FEATURES:

No more forgotten combinations or lost keys.
Plastic covered 49 strand spring steel cable is extremely difficult to cut.
Over 700 different key codes
Each lock comes with 2 color coded card keys.
Two cable lengths available--12 or 23 inches.
Available in five attractive colors.
Card key fits in billfold or attaches to key chain, jacket zipper, etc