Ash Cache Ashtray

More
5" Square Melamine Windproof Ashtray

More
62mm X 32mm Lighted Skate Wheel for Roller Skates or Skate Boards

More
Filter for Smoke Grabber Smokeless Ashtray

More
80mm Inline Skate Wheel

More
test00test

More
5" Round Windproof Ashtrays

This melamine ashtray's sun resistant colors allow smokers to match outdoor pool & patio furniture. Windproof design keeps ash from blowing.



---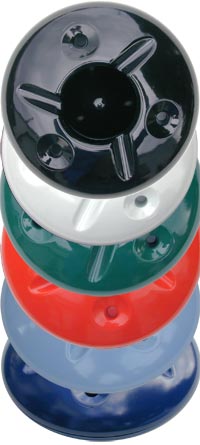 5" Commercial Grade Round Melamine Windproof Ashtray
SKU: 5rndn

This unique commercial grade windproof ashtray hides ash & cigarette butts inside & keeps tables clean & ash free, especially in a breezy outdoor setting. Specially designed holes make extinguishing of cigarettes easy. The easy-clean melamine makes it heat resistant and dishwasher safe. Sun resistant colors go well with outdoor pool and patio furniture.

Available colors are: Black, White, Navy, Sky Blue, Green, Red. Select color by editing "Edit Option" at checkout (please note this ashtray in black is $9.95).


5 Inch Round Melamine Ashtray

$9.95